Note From the Field 2
Andrea Myers Achi
[Print edition page number: 129]
Displaying Black Art in the Medieval Galleries at The Met Museum
In 1997, The Met's groundbreaking exhibition, The Glory of Byzantium, created a model for museums and cultural institutions to incorporate narratives about ethnicity and identity into their curatorial programing. It included artworks from regions and communities beyond the center of the Byzantine Empire, such as Egypt and Ethiopia. African art in this significant Byzantine exhibition created a space to decenter established art historical narratives. A year after the exhibition, Helen Evans, Mary and Michael Jaharis Curator of Byzantine Art, and Alisa LaGamma, Cecil and Michael E. Pulitzer Curator-in-Charge of the Michael C. Rockefeller Wing (previously Arts of Africa, Oceania, and the Americas), collaborated on the joint acquisition of an Ethiopian gospel book, which was featured in The Glory of Byzantium.[1] This monumental acquisition contrasted with other works in The Met's collection that depicted medieval Africans because the manuscript included representations of Ethiopians painted by Ethiopians.[2] When Evans and LaGamma presented the manuscript[130] to Philippe de Montebello, a previous director of The Met, he asked them why they had presented to him a "folk art" work. While this disparaging view was prevalent at the time, it became clear that the manuscript was a masterpiece for the collection. The manuscript has twenty-four full-page illustrations dating to the late fourteenth and early fifteenth century, and draws from early Christian, Byzantine, Syrian, Armenian, and Copto–Arabic traditions. The decorative borders of the manuscript, for example, represent the strong connections between Ethiopia and Arabia, and the visual paradigms in the illuminations relate to styles prevalent in East African art. The joint acquisition recognized Ethiopian art as medieval art and firmly grounded the manuscript in its African context. Building upon the momentum of the manuscripts' acquisition, Evans eventually acquired an Ethiopian cross and a single Ethiopian manuscript leaf for the Byzantine collection. These works allowed Evans to highlight the importance of Ethiopia in the medieval world; Ethiopia was one of the first Christian nations, and the kingdom remained in close contact with its Byzantine and medieval counterparts for over a thousand years.[3] Most medieval collections only have a few works from the continent of Africa, and it can be difficult for curators to tell complex stories of medieval Africa with only a few objects.[4] Evans and LaGamma were ahead of their time, and these acquisitions prompted the discussion on medieval Africa at The Met.[5]
Like Evans and LaGamma, the focus of my curatorial practice is not on displaying Western European depictions of Black people; rather, when appropriate, I seek to incorporate medieval African art into the medieval galleries at The Met. [6] This incorporation is a complicated endeavor, as the inclusion of African Art in traditionally white spaces (here, The Met's medieval gallery) forces visitors to confront issues related to modern ideas of race and ethnicity. This "Note from the Field" considers the implications of displaying African Art within the medieval galleries at The Met. I developed an approach to the arts of Africa in medieval galleries in my recent co-authored article with Seeta Chaganti, "Semper Novi Quid ex Africa, Redrawing the Borders of Medieval Art and Considering its Implications for Medieval Studies."[7] The article considered how African art might be read as Black art in a white space. Here, I present two short notes on permanent collection interventions that engage with this issue and prompt a reflection on stories of medieval Africans within The Met's galleries. I conclude by considering an aspect of curatorial work that is not always appreciated: the development of exhibitions and installations to present diverse narratives to the public. Museums are the first entry point to the medieval world for many people, and these spaces have the opportunity to share the multifaceted perspectives of the medieval period.[131]
African Christian Crosses:
An Intervention in The Met's Medieval Galleries, Note #1
The Met's Michael C. Rockefeller Wing (MCRW) is beginning their large-scale renovation.[8] Most of that collection will be in storage until 2024. As a means to keep some of the African works on view, Alisa LaGamma and Diana Craig Patch, Lila Acheson Wallace Curator-in-Charge of the Department of Egyptian Art, collaborated on a long-term exhibition that juxtaposed West and Central African art with Ancient Egyptian art.[9] LaGamma also proposed to install small interventions of other African artworks throughout The Met. The proposal to move pre-modern African works from their geographic space to their temporal space made sense. I presented some early thoughts on the movement of African works in an encyclopedic museum in 2019 and 2020 at the Art Gallery Ontario.[10] This project also inspired some brainstorming that went into the article "Redrawing the Borders of Medieval African Art."
To an extent, MCRW's planned installation was a product of the global turn in medieval studies, which coincides with a turn in the curatorial practices in medieval departments.[11]As such, twenty years after the joint acquisition of the Ethiopian Gospel Book, LaGamma suggested that the selection of Ethiopian crosses in her department might find a temporary home in the medieval galleries. This was a natural fit since the medieval department already had a small collection of Ethiopian works. LaGamma asked us to display crosses from Christian Kongo in the medieval galleries as well. Though these works are not medieval, their relationship to the medieval collection is due to their connections to Christianity. While they were featured in LaGamma's exhibition Kongo Power and Majesty, this aspect of West African art still surprises and intrigues many visitors. In the sixteenth century, the sovereign Kingdom of Kongo adopted Catholicism as their state's official religion. The tens of thousands of European Christian devotional artifacts imported at that time served as prototypes for early Modern Kongolese artists. While some of these new works retained the naturalism of Portuguese models, others translated the imagery into a highly expressive Kongolese Christ.
Early on, I considered putting the MCRW's African Christian material in The Met's Byzantine Egyptian galleries. However, the dates of the artworks in those galleries are between the fourth to seventh centuries. A more appropriate location, then, would be the Western medieval galleries with our thirteenth- to fifteenth-century artworks. The Byzantine and medieval galleries at The Met are connected by a stunning sightline of two processional crosses, and the end of this sightline is our Byzantine Apse. We display a Byzantine processional cross and a Spanish processional cross on the same plane. On the labels for both crosses, we discuss the objects in their original contexts and what the crosses meant to the Christian communities who used them. Because of their formal connections, I decided to place the Ethiopian and Kongolese crosses on the same plane as the other medieval and Byzantine processional crosses. Working closely with LaGamma, this intervention allowed me to display the African processional crosses compellingly and discuss the crosses' original context. Hence, we brought new cross-cultural narratives into galleries through this installation and didactics.[132]
Medieval African Sculpture:
An Intervention in The Met's Medieval Galleries, Note #2
The gradual incorporation of Ethiopian Art into the medieval department primed The Met's visitors for more experimental endeavors, such as The Met's 2020 Crossroad's installation, where I juxtaposed The Cloisters' African Magus with a medieval period Dogon Sculpture (Figure 1). The African Magus was part of a group of wooden sculptures representing the Adoration of the Magi; the figure initially stood behind an altar in a German church. According to the Gospel of Matthew, after the birth of Jesus, a group of Magi offered the child and his mother gifts of gold, frankincense, and myrrh. The New Testament does not identify the number in the group or their ethnicities. However, medieval literature and art depict the Magi as three kings from far corners of the known world, including Africa. Trade routes, diplomatic excursions, and increased contact between Europe and Africa in the medieval period led to more depictions of people with African descent in medieval art, particularly in scenes with the Magi.[12] This figure represented an imagined African royal and a reverent, wise man from the ancient world.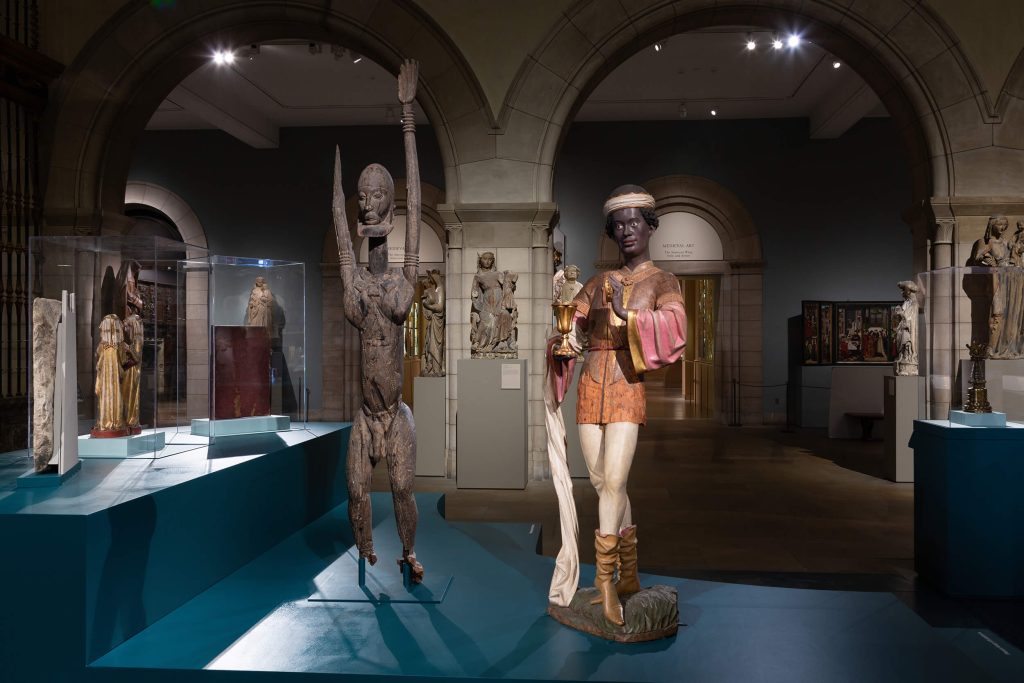 The Dogon sculpture is one of the earliest and largest surviving Dogon sculptures from the central plateau region of Mali; this commanding figure depicts a man at prayer. Skillfully carved, the sculpture represented a distinguished elder from his community. Individual characteristics, such as the delicate scars on his face and body and the jewelry on his neck and arms, suggest his significance. His raised hands are a symbol of prayer. For Dogon peoples, wooden sculptures acted as intermediaries between men and the ambiguous supernatural world. These statues could generate abundance or protection for their community. Displayed as altars and in , the sculptures were so potent and potentially dangerous that after they served their community for some time, a priest would ritually discard them to weaken their power.
It was striking that the "African Magus" and "Male Figure with Raised Arms" were so different but embodied similar responses to devotion and prayer. Out of their original contexts, both figures could evoke negative stereotypes. The presence of an unclothed African body in the medieval galleries caused discomfort, but the image is not unlike that of the stripped Christ in crucifixion scenes. To some, the magus appeared as a caricature of an African, but his elegant pose and attire are reminiscent of a medieval royal courtier. While the Dogon figure signified a real individual and the Magus represented a character from the Bible, together, the pairing represented powerful depictions of medieval Africans.
Black Art in a White Space?
As I consider similar interventions for the future, I recognize that many visitors might view African artworks in the medieval galleries as Black objects in a white space. This is a topic that scholars across fields are thinking about as well. For example, my colleague at the Stanford Classics department, Dr. Sarah Derbew's groundbreaking book includes a discussion on the display of vases in museums (Figure 2).[13] She provides a model for curators to rethink descriptions, labels, and object titles. For example, her suggestion of a title for Janiform vases would be "Janiform kantharos with addorsed heads of black and brown figures," rejecting the gendered and ethnic descriptors. By calling the tan figure a brown figure instead of[133] a Greek or white figure, Dr. Derbew forces the viewer to confront their perceptions of race and ethnicity.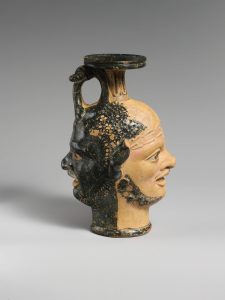 Whereas those engaging with Western or Byzantine depictions of Africans might reference Premodern Critical Race Theory directly, my immediate task considers how the modern viewer understands African works in unexpected areas of the museum.[14] Because of these considerations, my next projects include discussing color theory in medieval African Art.[15] For example, in the Ethiopian manuscript acquired in 1998, almost all of the figures are painted with red pigment. Color theory is important in medieval Ethiopian artistic practice: for example, red symbolized fire, and blood, and was the described color of Christ.[16] Here, the Ethiopian figures are red and not "Black". By confronting issues of race and color directly, I hope that visitors will come to have a more nuanced understanding of Ethiopian art, African painting practices, and African Christian connections to the medieval world. This is an exciting task in these[134] galleries, and I believe we will be able to bring new, cross-cultural narratives through these new installations and our .
Potential of Museums
The exhibitions and permanent gallery installations mentioned in this note provided training opportunities, such as formal internships, for diverse groups to collaborate on exhibition development, catalogs, and programming. These programs present the opportunity to tell the stories of medieval objects and help students think critically about their relationship to these objects, discuss original contexts, and ponder how the artworks got into the museum. Curators mentor these students and encourage them to take foreign languages and other necessary courses to graduate school. These internship projects are often tied to the development of exhibitions or permanent collection installations. The internships allow students to engage with primary sources and objects in ways that might be challenging to do within typical coursework.
Each of these opportunities helps with applications to graduate school, resumes for the job market, and so on. In short, exhibitions help to create multiple entry points into our fields. Exhibitions and their development also provide opportunities for historically underrepresented students to enter medieval studies. Indeed, we cannot depend on one or two institutions to do this work of creating an inclusive space to allow historically marginalized students to thrive, but what if keepers of every medieval collection viewed their upcoming exhibitions as an opportunity to diversify our field? What if we worked together ​—​ universities, colleges, museums, and libraries ​—​ to help students get hands-on training with object-centered research? Our interns do not have to start as medievalists, but we can introduce them to the field.
---
establishing a conversation between different cultures
specific to a large geographic area
designed to be carried and displayed during religious processions
holy space containing the relics of a Saint, place of pilgrimage
in the form of the Latin god Janus, that is, with two faces
pedagogy, a system for teaching something